Communication is the solution for everything. Communication not only include just listening, speaking and responding but understanding the meaning behind words by gestures, facial expressions mean a lot. Fujitsu a week ago announced its "Robot AI Platform" a platform for humans and robots to communicate effectively with each other. For providing seamless communication the platform offers the wide range of communication technologies such as natural language conversation, facial expression recognition, voice-emotion analysis, and face recognition, as cloud services that can connect with devices such as robots. Robots connected to this platform can provide communication services via natural conversation suited to the situation and interests of individuals in a variety of settings, including customer service and elder care. By connecting this platform to existing customer systems, customers can add additional value from the use of robots to their work processes and services.
Service robots with a variety of capabilities, including communication with people, have become widespread with the advance of technologies in such areas as sensors, networks, the cloud, and AI. There are high expectations for the use of service robots as a next-generation interface, not only in corporate activities, but also in daily life.
Fujitsu, primarily through Fujitsu Laboratories Ltd., has since the 1980s been working on R&D aimed at the commercialization of robots, with a special focus on human interaction technologies. The technologies and experience developed through these efforts have been used in Fujitsu Human Centric AI Zinrai, Fujitsu's AI technology. They have formed the basis for partnerships with multiple companies with proprietary technologies in the field of human interaction, and have been systematized as the "robot AI platform."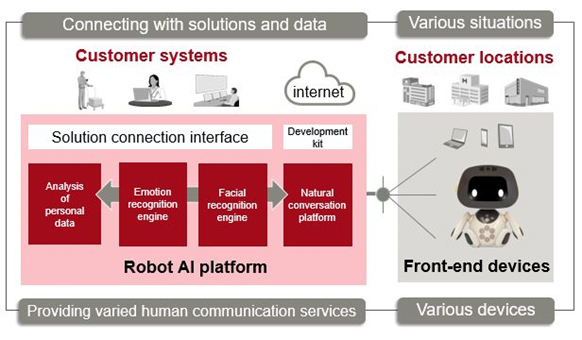 Summary
This platform can connect with a variety of devices, including communication robots, enabling natural communication between people and the devices. The features of this platform are as follows:
1. A robot platform that can be connected to existing systems
For customers considering systems using robots, Fujitsu is offering the Robot AI Platform Trial Pack for unibo, a set consisting of unibo units along with the platform, as a trial service aimed at testing the implementation of this system, which can be used for one year. Going forward, Fujitsu plans to offer the Robot AI Platform Basic Service for unibo , which will be optimized for official deployment and can also connect to customers' existing systems.
2. Voice interaction through natural conversation
With this platform, robots can actively speak to people and solicit information on their interests and status using the service robot platform technology developed by Fujitsu Laboratories, and then can suggest topics suited to that context. In addition, this platform can use target-oriented voice interaction developed by iNAGO Inc. to narrow down the intent behind a person's words. Using these two conversation methods, and by automatically switching between them based on the usage scenario, this platform can hold conversations that respond to a variety of conversational patterns.
3. Facial expression recognition, voice-emotion analysis functionality, and facial recognition technology optimized for situations in business and daily life
Fujitsu has integrated voice-emotion analysis technology developed by Empath Inc. with facial expression recognition technology that can differentiate joy, anger, and sorrow, even from tiny changes in facial expression, jointly developed by Fujitsu and sMedio, Inc. In addition, with facial recognition technology jointly developed by Fujitsu and sMedio, this system can differentiate individuals even when a part of their face is hidden.
4. Deployment consulting available
As part of the launch of this service, Fujitsu has systematized the knowledge and experience it has developed over many years of robotics R&D into a consulting service. Fujitsu is supporting faster innovation for customers by helping them, when they are considering deploying robots, in setting plans, creating ideas for the use of robots, testing those ideas and evaluating their effectiveness.