Fujitsu Laboratories Ltd. today announced development of the world's smallest sensor that eliminates the need to replace batteries. The new sensor supports Low Power Wide Area (LPWA) wireless transmission technology that can reach a broad area with low power.
As the spread of IoT systems gains momentum, expectations are rising for sensor devices that support LPWA technology, which can wirelessly transmit sensor information directly to the cloud. In order to create systems that employ this technology, there has been a demand for the development of easy-to-install miniature devices using solar cells to achieve both convenience and low cost, which dispense with the need to replace batteries .
Fujitsu Laboratories previously developed power control technology that can operate a beacon with the power provided just by a solar cell. Conventionally, power output variation of solar cells due to temperature had been tolerated by enlarging the size of energy storage elements. Now, however, Fujitsu Laboratories has developed technology that achieves high power efficiency by controlling signal transmission timing based on the temperature variation measured by a temperature sensor, which makes it possible to reduce the required energy storage elements for signal transmission by half. This has enabled Fujitsu Laboratories to successfully miniaturize the device to a size of 82x24x6 mm, creating the world's smallest sensor device supporting LPWA that does not need replacement batteries.
In a test of the sensor device using this technology, Fujitsu Laboratories confirmed that the collected temperature and humidity data can be transmitted to a Sigfox base station over a distance of about 7 km. Since it is now possible to acquire measured data even from locations where it is difficult to secure power and install power cables just by placing these sensor devices, the maintenance-free deployment and management of IoT systems has become a reality, accelerating the process of on-site digitalization.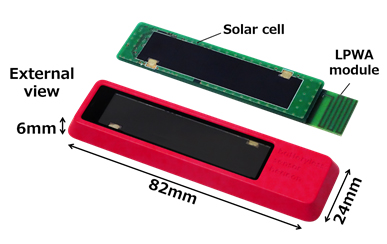 Tested sensor device supporting LPWA
Want to know more about technical working of LPWA supported smallest sensor device click here